Chant Wars
The Carolingian 'Globalization' of Medieval Liturgical Chant
A collaboration with the ensemble Dialogos, directed by Katarina Livljanic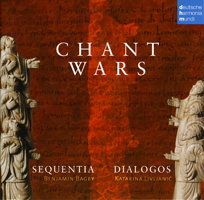 CD (total time 74:53)
Recorded in November 2004 in the grand refectorium of the Abbey of Fontevraud (F)
Released 2005 by Deutsche Harmonia Mundi / SONY-BMG Music (82876666502)
Booklet 43 pp.
Two of Europe's most innovative ensembles for medieval music, Sequentia (dir. Benjamin Bagby), and Dialogos (dir. Katarina Livljanic) join their respective men's vocal ensembles in a program called Chant Wars, a vision of medieval liturgical chant unlike anything which has been heard before.
As developed by singer and musicologist Katarina Livljanic, the theme of Chant Wars is nothing less than the first known 'globalization' of European music. Specifically, the men of Sequentia/Dialogos have recorded music which illuminates the legendary 10th and 11th-century confrontation between the Frankish cantors of the Carolingian emperors (including their attempts to learn 'historically-informed' Roman singing styles from the wily, virtuoso cantors of the Papal court) and the European chant traditions the emperor sought to replace with these 'new' musical repertoires and vocal styles. The merging of two separate vocal ensembles makes it possible for today's listeners to hear the diversity of chant styles of medieval Europe, at a time when chant traditions were competing for ascendancy in the vigorous young empire of Pepin, Charlemagne and their successors.
The nine singers of Sequentia and Dialogos perform carefully-researched yet radical new reconstructions of the chants sung during this confrontation, taken from the world of brilliant medieval cantors who were literally singing for their lives. The CD includes a wide variety of chants for various liturgical and imperial functions, taken from medieval manuscripts (and almost all of them transcribed for the first time for this program) which attest to traditions all over the empire: from Saint Gall in Switzerland, Aquitaine, Northern France, and Rome itself.
Discography
2000-2018
1990-1999
1980-1989