Fragments for the End of Time / Endzeitfragmente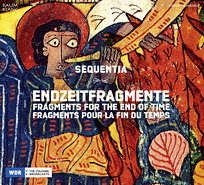 CD (total time 77:32)
Recorded May 2007 in the Klosterkirche Walberberg (D)
Released 2008 by Raumklang (RK 2803) in co-production with WDR Köln
Booklet 53 pp.
In this unique recording of largely unknown repertoires, Sequentia explores the surprising and powerful apocalyptic texts – some of them surviving only as fragments – which terrified early medieval Christians in Aquitaine and in German-speaking lands.
From the time of Christianity's introduction into Europe until the end of the first millennium, apocalyptic images of the End of Time and the Last Judgement were widespread, both in texts and in the visual arts. These images, based largely on the Biblical Revelation of John, at times bear a remarkable similarity to the pagan-germanic description of the world's destruction during the final battle (Ragnarök) between Odin, the gods and their mortal enemies, the giants.
In this CD, Fragments for the End of Time, vocalist/harper Benjamin Bagby und flautist Norbert Rodenkirchen explore the musical world of these surprising, powerful texts, some of which survive only as fragments: the Old High German Muspilli (the name itself may be borrowed from the Norse), a complex poem which describes the waking of the dead, the battle of Elijah with the Antichrist, the workings of Satan, the horn calling to judgement, and warns of the uselessness bribery in that final courtroom; the doomsday prophecy of the Erythrean Sibyl (an acrostic text surviving only in Augustine's City of God) as sung in Aquitanian cloisters; the Alsatian monk Otfrid's rhyming German verses which give advice on how to prepare for the last day, when the world will end 'like a book snapped shut'; masterful Latin sequences from Frankish tradition, describing angels and archangels; instrumental interludes based on sequulae – untexted sequence melodies with titles (such as puella turbata, fistula, cithara) which point to possible pre-Christian usages; and finally, from the Old Saxon Heliand, Christ's own answer to the question posed by his disciples: what will be the signs that the Last Day is coming?
Discography
2000-2018
1990-1999
1980-1989