Soloists' Biographies
Elizabeth Gaver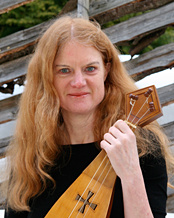 Elizabeth Gaver (medieval fiddle) began performing with Sequentia in 1992 and was a core member of the ensemble for many years. She has participated in over a dozen recordings with the ensemble, along with several music-drama productions.
She now lives in Oslo, where she has performed and recorded with Modus, Pro Musica Antiqua Oslo, Barokkanerne, and The Norwegian Baroque Orchestra. She is a member of the Swedish trio, Ulv, interpreting traditional ballads and songs with a medieval perspective. She plays hardingfele with the Norwegian traditional music ensemble Feleboga that has performed concerts and taught dance workshops in Germany, Iceland, Poland, Thailand and the US. In addition, she plays old-time fiddle with the band Apple Blossom.
She has earned degrees from Stanford University, The Juilliard School and the University of Oslo, and studied medieval performance practice with Thomas Binkley at Indiana University.
Upcoming Concerts
30 September 2018
New York City (Music Before 1800)
Beowulf
17 October 2018
London (British Library)
Beowulf
7 December 2018
Amherst, MA / Amherst College
Monks singing pagans
14 December 2018
Gdansk, Poland / Actus Humanus Nativitas
Monks singing pagans
News
Benjamin Bagby's teaching activities in 2018
In addition to his teaching position at the University of Paris - Sorbonne, where he has taught since 2005 in the professional masters program, Benjamin Bagby travels widely in 2018 to teach other practical workshops for young professionals:
Milano, Scuola Civica di Musica (Milano, Italy) 29-31 January
The troubadours of the Milano manuscript R71 sup. (late 13th century)
Folkwang Universität der Künste (Essen-Werden, Germany) April-June
Benjamin will join the faculty of this renowned masters program for liturgical chant performance and medieval music, specializing this year in music from Notre Dame of Paris. The dates of his courses: 13-14 April, 18-20 May, 28-30 May and 15-17 June. More information
Schola Cantorum Basiliensis (Basel, Switzerland) 25-26 May
7th International Course on Medieval Music Performance (Besalú, Spain) .
Music relating to the idea of the Crusades, especially in the 12th and early 13th centuries.
Amherst Early Music Festival (Connecticut College, New London CT) 15-21 July
An intensive course on the Roman de Fauvel (14th century)
July 21, 2018, 1 pm "Roman de Fauvel project" (student performance)
Burg Fürsteneck, Germany (31 August to 02 September
Fortbildung zur Musik des Mittelalters / Roman de Fauvel (guest instructor)