Projects
The Hildegard von Bingen project (1982-2012)
Since the early 1980's, Sequentia's name has been closely linked with the music of Hildegard von Bingen (1098-1179), the visionary abbess and healer whose spiritual compositions are among the most astonishing and unique creations from the dynamic milieu of 12th-century Benedictine monasticism. Hildegard referred to her songs collectively as 'The Harmonious Music of Celestial Revelations' (symphoniae harmoniae celestium revelationum), a title meant to indicate their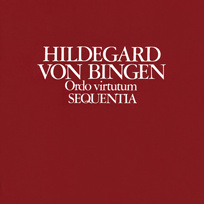 divine inspiration as well as the idea that music is the highest form of human activity, mirroring the ineffable sounds of heavenly spheres, angelic choirs and the individual human soul. Between 1151 and 1158 this visionary 'Sibyl of the Rhine' began to collect her musical creations, most of them intended to be sung by the sisters of her convent at the Rupertsberg (on the Rhine at Bingen), as a complement to the traditional Gregorian chant sung during liturgical and other functions. Anyone who has sung her music knows that it counts among the most sublime, virtuosic and demanding vocal repertoires ever created. "It is said that you are raised to Heaven, that much is revealed to you, that you bring forth great writings, and discover new manners of song…" wrote Master Odo of Paris in 1148. Then, as now, Hildegard was admired for fearlessly exploring the soul's place in the cosmos and giving it voice through her unique musical vision.
Sequentia was among the first vocal ensembles to revive Hildegard's music in our time, working closely from the medieval manuscript sources and employing concepts of performance practice which would have been known to the abbess and her Benedictine sisters in the 12th century.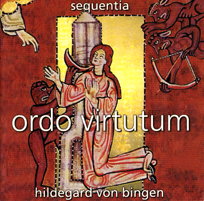 Under the general direction of the late Barbara Thornton, and working closely with musicologists and philologists (especially Leo Treitler, Peter Dronke and Barbara Stühlmeyer) many of the world's foremost vocalists and instrumentalists in historical music performance joined Sequentia to perform and record Hildegard's works on a regular basis between 1982 and 2012 (see list of musicians below). From the beginning, the entire project was supported generously by the West German Radio in Cologne (producers Alfred Krings and Klaus L Neumann), which co-produced most of the recordings on the Deutsche Harmonia Mundi label. In addition to recording, the ensemble toured widely to critical acclaim in Europe, North America, Australia and Japan.
The Sequentia recordings of Hildegard's works are contained on 8 releases (more than eleven hours of music) for the DHM label and include all of Hildegard's 77 symphoniae as well as her music drama Ordo Virtutum (recorded twice, with an interval of 15 years between the two radically different productions). One of these releases, Canticles of Ecstasy, received several international awards (including an Edison Prize, a Disque d'Or, and a Grammy nomination for best choral recording) and has sold more than a million copies worldwide.
In 2009 an anthology, made up of exceptional tracks from six of Sequentia's releases on DHM, was released to highlight not only Hildegard's melodic and textual genius, but also the striking varieties of mode, structure, color, and scale which define her work. Complete program notes and a more profound look at Hildegard's music can be found in the detailed booklets of the original Sequentia CDs – all still available on DHM -- from which this anthology was made.
In 2012 the final recording of the complete works, Celestial Hierarchy was brought to life by Sequentia's co-founder and director Benjamin Bagby to commemorate the elevation of Hildegard von Bingen to Sainthood and Doctor Ecclesiae (2012), to finish Sequentia's complete works project on the DHM label (now Sony), and thus to honour the life's work of Barbara Thornton (1950-1998). For this recording, a multi-generational ensemble of seven women's voices was assembled under Bagby's direction, together with the flautist Norbert Rodenkirchen and Bagby playing harp. One of the singers on this final recording had been a member of Barbara Thornton's ensemble, while some others were not yet born when the first recording was made in 1982. 
The Sequentia recordings of Hildegard's complete musical works are now contained on 8 releases for the DHM label and include all of Hildegard's 77 symphoniae as well as her music drama Ordo Virtutum -- almost 12 hours of music. One of these releases, Canticles of Ecstasy, received numerous international awards (including an Edison Prize, a Disque d'Or, and a Grammy nomination for best choral recording) and sold more than a million copies worldwide.
Hildegard von Bingen releases on DHM

(with year of recording/release)
Ordo Virtutum (1982/83) 2 LPs [not included in the complete works]
Symphoniae (1982-3/85)
Canticles of Ecstasy (1993/94)
Voice of the Blood (1994/95)
O Jerusalem (1995/97)
Saints (1996/98) 2 CDs
Ordo Virtutum (1997/98)
Visions of Paradise (anthology, 2009) [not included in the complete works]
Celestial Hierarchy (2012/13)
Musicians featured on Sequentia's Hildegard Project recordings
Women's voices: Gundula Anders, Rebecca Bain, Lydia Brotherton, Agnethe Christensen, Pamela Dellal, Suzanne Ehly, Jill Feldman, Elizabeth Glen, Ellen Hargis, Maria Jonas, Lydia Heather Knutson, Esther Labourdette, Guillemette Laurens, Theresa Lister, Sabine Lutzenberger, Nancy Mayer, Laurie Monahan, Christine Mothes, Elodie Mourot, Marianne Nielsen, Lena Susanne Norin, Caitriona O'Leary, Lucia Pahn, Margaret Raines, Sally Sanford, Consuelo Sañudo, Carol Schlaikjer, Diane Severson, Allegra Silbiger, Candace Smith, Barbara Thornton (director), Caroline Trevor, Janet Youngdahl.
Men's voices: Benjamin Bagby (director), John Fleagle, Stephen Grant, Paul Guttry, Peter Halpern, William Hite, Frank Kelley, Wolfgang Kläsener, Stefan Klöckner, Klaus Lohmann, Eric Mentzel, Mark McSweeney, Peter Schmitz, Bernhard Schneider, Bernhard Schüth, Burkhard Wiggeshoff.
Instrumentalists: Benjamin Bagby (harp & organistrum), Sarah Cunningham (fiddle), Liane Ehlich (flute), Rachel Evans (fiddle), Elizabeth Gaver (fiddle), David Hart (flute), Joachim Kühn (organistrum), Na'ama Lion (flute) Robert Mealy (fiddle), Elisabetta de Mircovich (fiddle), Norbert Rodenkirchen (flute), Barbara Thornton (portative organ), Margriet Tindemans (fiddle).
Upcoming Concerts
28 April 2017
Chicago, IL, University of Chicago, Logan Center
Monks Singing Pagans
30 April 2017
New York City, NY, Music Before 1800, Corpus Christi Church
Monks Singing Pagans
11 May 2017
Paris, Université de Paris – Sorbonne, Amphithéâtre Richelieu
Beowulf
News
Classes at Princeton and Yale
While on tour in the USA performing 'Beowulf' in March and April 2017, Benjamin Bagby taught classes and lectured at Princeton University (speaking about the music of Hildegard von Bingen) and at Yale University (a lecture-demonstration on his performance of Beowulf), and participation in the Yale School of Music's weekly meeting called 'Medieval Song Lab', hosted by musicologists Anna Zayaruznaya and Ardis Butterfield.
Hildebrandslied
Benjamin Bagby has recorded the only surviving Old High German epic fragment, the Hildebrandslied (The Song of Hildebrand), for inclusion in an audiobook version of Adam Gidwitz's new book for children and young adults, The Inquisitor's Tale, just released by Penguin/Random House. He also recorded harp accompaniments to go with portions of the reading of the story. A release event is being schedule for New York City in early April, 2017.
New program given birth at Cambridge University
Following working sessions in 2014-15 with University of Cambridge musicologist Sam Barrett in the USA (Harvard University and Ohio State University) and in Cambridge (Pembroke College), Sequentia was in residence at Cambridge in April for the final rehearsals of the new program 'Monks Singing Pagans'.  An informal video of a rehearsal made by the university became a YouTube sensation, with over 500,000 views. In addition to their rehearsals and working sessions on the songs of Boethius, Sequentia gave a masterclass and the premiere performance of 'Monks Singing Pagans', immediately followed by the US premiere during a residency at Dartmouth College (USA). The week spent at Dartmouth included teaching activities in music history, performance practice, Latin poetry and manuscript studies. Sequentia returned to Cambridge in late June to prepare a special program of the Boethian songs, which was given as part of a symposium on medieval Latin song, with a special concert on 2 July in Pembroke College Chapel.