Projects
Men's Voices
In the mid-1980's, Sequentia began to undertake large-scale projects involving an ensemble of 3-9 men's voices, directed by Benjamin Bagby, for the performance of chant, music drama, liturgical polyphony and monophonic sacred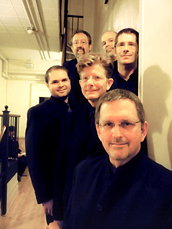 repertoires. By the late 1980's the men's ensemble of Sequentia was a renowned trans-Atlantic collegium (many of the singers came from Boston) which performed and recorded widely in North America and Europe, sometimes under the name 'Sons of Thunder'. More recently, the ensemble has toured with programs such as 'Pilgrims to the Apocalypse' (2000) and in 2004 joined with the men's ensemble of the ensemble Dialogos (dir. Katarina Livljanic) for the project Chant Wars, which toured in Europe, North and South America, and continues to be performed. The Boston men's ensemble premiered a new program in 2008: Carmina Burana (with the Boston Symphony Orchestra), and in 2009 a new ensemble of Sequentia's men's voices was founded in Paris (see Programs: Voices from the Island Sanctuary).
Past and present concert programs
Charlemagne: Emperor and Saint (2011-present)
Voices from the Island Sanctuary (2009-present)
The Original 'Carmina Burana' (2008)
Chant Wars (with Dialogos, 2004-2010)
The New Voices of Notre Dame de Paris (2002)
Pilgrims to the Apocalypse (2000)
Liber Sancti Jacobi – Codex Calixtinus (1999)
Hildegard von Bingen Project (multiple programs, 1995-99)
Christmas Music from Aquitanian Cloisters (1996)
Singing Stones (1987-88)
Frauenlob (1987-1990)
Music-drama (multiple projects,1985-92)
Sequentia recordings featuring the men's vocal ensemble
Upcoming Concerts
30 September 2018
New York City (Music Before 1800)
Beowulf
17 October 2018
London (British Library)
Beowulf
7 December 2018
Amherst, MA / Amherst College
Monks singing pagans
14 December 2018
Gdansk, Poland / Actus Humanus Nativitas
Monks singing pagans
News
Benjamin Bagby's teaching activities in 2018
In addition to his teaching position at the University of Paris - Sorbonne, where he has taught since 2005 in the professional masters program, Benjamin Bagby travels widely in 2018 to teach other practical workshops for young professionals:
Milano, Scuola Civica di Musica (Milano, Italy) 29-31 January
The troubadours of the Milano manuscript R71 sup. (late 13th century)
Folkwang Universität der Künste (Essen-Werden, Germany) April-June
Benjamin will join the faculty of this renowned masters program for liturgical chant performance and medieval music, specializing this year in music from Notre Dame of Paris. The dates of his courses: 13-14 April, 18-20 May, 28-30 May and 15-17 June. More information
Schola Cantorum Basiliensis (Basel, Switzerland) 25-26 May
7th International Course on Medieval Music Performance (Besalú, Spain) .
Music relating to the idea of the Crusades, especially in the 12th and early 13th centuries.
Amherst Early Music Festival (Connecticut College, New London CT) 15-21 July
An intensive course on the Roman de Fauvel (14th century)
July 21, 2018, 1 pm "Roman de Fauvel project" (student performance)
Burg Fürsteneck, Germany (31 August to 02 September
Fortbildung zur Musik des Mittelalters / Roman de Fauvel (guest instructor)