Contact
E-mail: info@sequentia.org
Representation (France)
GALATEA
Sophie Lanoote
Management artistique | conseil | production
5, rue Taylor
75010 Paris, France
Tel +33 (0)6 86 74 35 43
Skype: galateamusic
www.galatea-music.com
Representation
(exclusive of Europe)
Seth Cooper
Seth Cooper Arts Inc.
4592 Hampton Ave.
Montréal, QC, Canada
www.sethcooperarts.com
sethcooper.arts@gmail.com
Tel: 514-467-5052
In association for
Season 2016-2017 with:
Jon Aaron
Aaron Concert Artists
220 West 148th St. 4J
New York City 10039, NY / USA
Tel: 212-665-0313
jon@aaronconcert.com
Follow us on Facebook
Hildegard von Bingen: Symphoniae
Geistliche Gesänge / Spiritual Songs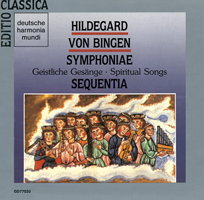 CD (total time 62:16)
Recorded June 1982 in the Klosterkirche Knechtsteden (D) and June 1983 in the church of St. Osdag, Mandelsloh (D)
Rreleased as LP in 1985 and as digitally remastered CD in 1989 by Deutsche Harmonia Mundi (GD77020) in co-production with WDR Köln
Booklet 31 pp.
Sequentia's Hildegard von Bingen Project: Initially in collaboration with the West German Radio Cologne (WDR Köln) Sequentia made a series of recordings of the complete works of Germany's most important medieval composer, the abbess and visionary Hildegard von Bingen (1098-1179).
After recording the music drama, Ordo Virtutum, Sequentia went on to make a first recording of the abbess's symphoniae, spiritual songs which were probably sung in the liturgy of her convent on the Rupertsberg in the late 12th century. A group of nine female vocalists under Barbara Thornton's direction is complemented by five instrumentalists in this recording made over a period of a year, in two different medieval German churches.